Summer Theological Academy with Robert A. Kolb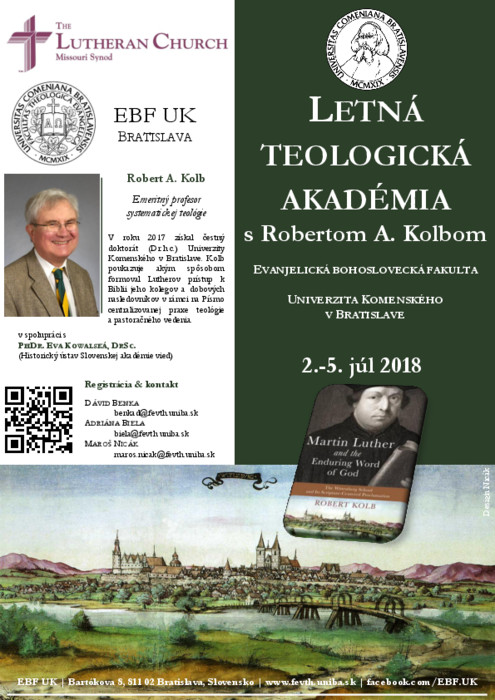 "Luther objavil, že je to Boh, kto iniciuje vzťah, ktorý zachraňuje človeka z hriešneho stavu. Boh tak robí – podľa Lutherovho presvedčenia – práve tým, že komunikuje s človekom a obnovuje tak dialóg, ktorý formoval od samotného počiatku vzťah medzi Stvoriteľom a stvorenstvom."
Martin Luther and the Enduring Word of God: The Wittenberg School and Its Scripture-Centered Proclamation (Grand Rapids: Baker Academic, 2016), s. 467.
Robert A. Kolb
(Emeritný profesor systematickej teológie na Concordia Seminary, St. Louis, USA)
Evanjelická bohoslovecká fakulta
Vás srdečne pozýva na tohtoročnú Letnú teologickú akadémiu s Prof. Dr. Dr.h.c. Robertom A. Kolbom a PhDr. Evou Kowalskou, DrSc. (Historický ústav Slovenskej akadémie vied). LTA 2018 sa tradične uskutoční na pôde Evanjelickej bohosloveckej fakulty Univerzity Komenského v dňoch od 02. do 05. júla 2018. Predmetom spoločných teologických úvah a diskusií je Lutherova interpretácia pretrvávajúceho Slova Božieho v kontexte "Wittenbergskej školy", ktorej nasledujúce generácie zotrvávali a pokračovali v zvestovaní Písma.
Registračný formulár (bližšie informácie v prihláške)
Prihlášky, prosím, zasielajte do 20. júna 2018.
Registrácia & kontakt
Adriána Biela
biela@fevth.uniba.sk
Dávid Benka
benkad@fevth.uniba.sk
Maroš Nicák
maros.nicak@fevth.uniba.sk
EBF UK | Bartókova 8, 811 02 Bratislava, Slovensko | facebook.com/EBF.UK